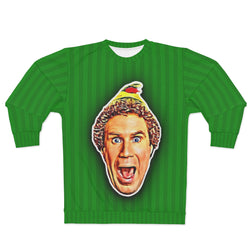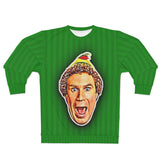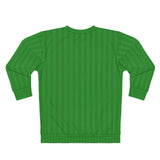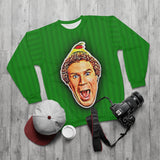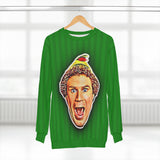 Buddy The Elf • Ugly Christmas Sweater • Green Design • AOP Unisex Sweatshirt
Buddy The Elf • Ugly Christmas Sweater! • Green Design
A simple but awesome design of everyone's favorite Elf! Great for the holidays or for any occasion this Winter. 
This unisex Christmas Sweater is perfect for the holiday season, winning that Ugly Christmas Sweater Party or to give as a special and unique gift!
Fully optimized for the highest quality printed merchandise! Professionally designed by Graphic Artist "JohnnyAppz". (Original graphics were designed to represent the main subject and any additional themes present)
PRODUCT INFORMATION
This all over print crewneck sweatshirt is the perfect example of cool. With quality all-over printing capabilities, you won't be worried about white lines at the seams. This fleece is custom cut and sewn, featuring a crew neck and set-in sleeves to keep you warm.
.: 86% Polyester 14% Cotton
.: Crew neck
.: Classic Fit
.: Custom cut and sewn
.: White thread color
|   | XS | S | M | L | XL | 2XL |
| --- | --- | --- | --- | --- | --- | --- |
| Length, in | 27.48 | 28.74 | 29.76 | 30.75 | 31.73 | 32.99 |
| Width, in | 19.02 | 20.35 | 21.73 | 23.11 | 24.49 | 25.87 |
ABOUT
This all over print crewneck sweatshirt is the perfect example of cool. With quality all-over printing capabilities, you won't be worried about white lines at the seams. This fleece is custom cut and sewn, featuring a crew neck and set-in sleeves to keep you warm.
KEY FEATURES
86% Polyester 14% Cotton fleece
This extremely strong and durable synthetic fabric retains its shape and dries quickly
Full decoration
Bright and intense colors of your all over desired design
Ribbed-knit cuffs and collar
The 1x1 ribbed knit makes the collar and cuffs highly elastic and helps retain its shape, containing spandex for increased elasticity
TECHNOLOGY & INKS
MWW On Demand uses a wide variety of dye sublimation and direct-to-fabric print machinery that utilizes the industry's best water-based pigment inks.
QUALITY CONTROL
MWW operates with an AQL program to measure the incoming components for all raw materials used in the process. This same program is used to check the in-process quality and outgoing finished products. The data that is collected from these audits is used to provide feedback to respective areas for continuous improvement.
PACKAGING CONTROL
All products are poly-bagged with a suffocation label and shipped in approved mailer bags or plain cardboard box for larger orders.
CARE INSTRUCTIONS 
Do not dryclean; Do not iron; Tumble dry: low heat; Do not bleach; Machine wash: cold (max 30C or 90F).
PRODUCTION TIME
Avg. Production Time - 2.05 Business Days
This is the average production time for this product in the last 30 days. Production times may vary from case to case.
Standard Production Time - 5 Business Days
SIZES
Print area - All over print 
Sizes • 6 (XS – 2XL)
SHIPPING
General standard production time for all products is 5 business days (current average production speed is usually quicker). Shipping time will then be determined by the selected ship method and carrier.
There are no processing fees. Everything but the actual cost of shipping is included in the price.
Shipping to United States
Sizes/Type: All
First item: USD 8.39
Additional item: USD 2.49
Shipping to Canada
Sizes/Type: All
First item: USD 11.99
Additional item: USD 7.29
Shipping to: Rest of World
Sizes/Type: All
First item: USD 14.39
Additional item: USD 7.49
Not only do we ship all over the world, but we even have facilities around the globe as well to help speed up and simplify your international orders.
SHIPPING PROVIDERS
United States Postal service
USPS First Class
USPS Priority Mail
USPS First Class International
USPS Priority Mail International
DHL shipping service logo
DHL
SHIPPING NOTES
Shipping to Puerto Rico and Hawaii up to 7 – 12 business days
* Northern Europe includes Denmark, Finland, Norway, Sweden, Iceland, Estonia, Latvia, and Lithuania. EFTA states includes Switzerland, Liechtenstein, Norway, and Iceland.
#TheChristmasSweater #UglyChristmasSweater #ChristmasSweater #UglyChristmasSweaterParty #ChristmasParty #WomensChristmasSweaters #MensChristmasSweaters #Fashion #AOP #Ubisex #FunnyChristmasSweaters #ChristmasSweatshirt #christmasclothing #christmasgiftss #holidaystyle #christmasstyle #christmastradition #ChristmasGiftsForMen #ChristmasGiftsForWomen #ChristmasPresents #ChristmasGiftsForDad #BuddyTheElf #BuddyElf #WillFerrell #ChristmasMovie #FunnyChristmasMovie #ElfChristmasMovie #ElfMovie
This product is the original work of professional Graphic Artist and influencer JohnnyAppz. He has designed custom graphic artwork for some of the most famous celebrities, athletes, actors, musicians and businesses throughout the world. The JohnnyAppz design style is embodied by a modern take of surrealism, pop-art, with an intelligent street art vibe. His original style works alongside a unique perception and approach of subjects, to create artwork that is genuinely one of a kind. In 2015, the "JohnnyAppz" merch brand was officially launched, with a direct sponsorship and partnership with the RageOn mega print site. Artwork by JohnnyAppz has since been sold on thousands of printed products and has given the public some of the most unique items imaginable. #JohnnyAppz
The artwork provided for the creation of this product, and all other products listed by this design storefront, is the full original artwork of the creating artist. Design techniques include a caricature based style, focused on achieving a visual or theme based representation relating to the stated character or subject described within the title / description. Product graphics have been developed from scratch and entirely by hand. Finalized product artwork is free of any potentially copyrighted content, actual media / photographs or any other type of intellectual property, not owned, licensed or created entirely by the designing artist. Any resemblance is to other media is entirely circumstantial and a result of the design techniques previously noted in detail. Product artwork was designed exclusively by "JohnnyAppz Design", in association with "TheChristmasSweater", and may not be reproduced in whole or in part in any manner without without prior written consent.