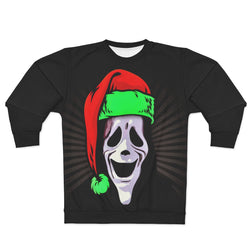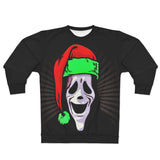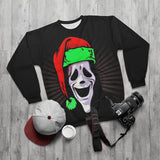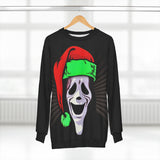 Happy Scream Mask Christmas Sweater Funny XMas Scary Movie Unisex
Happy Scream Killer Mask • Ugly Christmas Sweater • Funny XMas Scary Movie • Unisex Sweatshirt
This all over print crewneck sweatshirt is the perfect example of cool. With quality all-over printing capabilities, you won't be worried about white lines at the seams. This fleece is custom cut and sewn, featuring a crew neck and set-in sleeves to keep you warm.
.: 86% Polyester 14% Cotton
.: Crew neck
.: Classic Fit
.: Custom cut and sewn
.: White thread color
.: Assembled in the USA from globally sourced parts
Please check listing deatils for shipping rates  
Average production time : 2-5 Days
TheChristmasSweater.com / JohnnyAppz Design
This product is the original work of professional Graphic Artist and influencer JohnnyAppz. He has designed custom graphic artwork for some of the most famous celebrities, athletes, actors, musicians and businesses throughout the world. The JohnnyAppz design style is embodied by a modern take of surrealism, pop-art, with an intelligent street art vibe. His original style works alongside a unique perception and approach of subjects, to create artwork that is genuinely one of a kind.
In 2015, the "JohnnyAppz" merch brand was officially launched, with a direct sponsorship and partnership with the RageOn mega print site. Artwork by JohnnyAppz has since been sold on thousands of printed products and has given the public some of the most unique items imaginable. #JohnnyAppz
The artwork provided for the creation of this product, and all other products listed by this design storefront, is the full original artwork of the creating artist. Design techniques include a caricature based style, focused on achieving a visual or theme based representation relating to the stated character or subject described within the title / description. Product graphics have been developed from scratch and entirely by hand. Finalized product artwork is free of any potentially copyrighted content, actual media / photographs or any other type of intellectual property, not owned, licensed or created entirely by the designing artist. Any resemblance is to other media is entirely circumstantial and a result of the design techniques previously noted in detail. Product artwork was designed exclusively by "JohnnyAppz Design", in association with "TheChristmasSweater", and may not be reproduced in whole or in part in any manner without without prior written consent.
Made in the USA